Target Audience: Law Enforcement, Investigator or Crime Scene Technician
The National Forensic Academy (NFA) is an intensive 10-week training program designed to meet the needs of law enforcement agencies in evidence identification, collection, and preservation. The NFA is offered in-residence, utilizing curriculum developed by leading forensic practitioners from across the United States. Participants will be challenged in the various disciplines through classroom instruction, lab activities, and field practicums in the specialized courses. Academy participants will complete written and in-class competency exams to demonstrate mastery of the subject areas. The goal of the Academy is to prepare the crime scene investigator to recognize key elements and to improve the process of evidence recovery and submission.
TN POST Certified, Diploma 400 hours of coursework, Bloodstain Pattern Analysis 40-hour certificate, Shooting Incident Reconstruction 40-hour certificate, NFA is recognized by the IAI as providing the necessary training required for crime scene certification.  In  addition, LEIC now offers Crime Scene Certification as an alternative to IAI certification.
Curriculum
There are 400 hours of training per session; 170 hours of in-class work; and 230 hours of field practicum. During the course of the 10 weeks, students will be responsible for several educational objectives including, quizzes, tests, case files, research papers, and various other hands-on experiences. At the end of the course, students can expect to complete a written post test as well as complete their online portfolio with all demonstrated work submitted into Google Classroom.
Modules

Bloodstain Pattern Analysis
Bombs, Booby Traps and Threats at the Scene
Crime Scene Management
Computer Sketching and Mapping, and Total Station
Courtroom Testimony
Criminal Investigative Analysis
DNA
Firearms and Toolmark Identification
Footwear and Tire Impressions
Forensic Fire Investigation
Latent Fingerprint Processing
Photography (Digital and Videotaping)
Post-blast Investigation
Postmortem Fingerprinting
Serial Number Restoration

Shooting Incident Reconstruction
Trace Evidence
Death Investigation
Autopsy
Bone Trauma
Burned Bone
Child Fatality
Manners of Death
Time Since Death
Wound Pattern Interpretation
Forensic Anthropology
Bone Scatter Search
Forensic Entomology
Forensic Odontology
Forensic Osteology
Human Remains Recovery
Admissions
In order to be considered for admission, candidates must be employed by a law enforcement agency.
With limited capacity for each session, admission to the NFA is highly competitive, and there is a waiting list of applicants for future sessions. A recommendation letter from a Chief, Sheriff, or Agency Head is required to be considered for admission to the Academy. Applications will be screened and a pool of candidates selected for each session of the Academy. Participants are required to remain in-residence in Knoxville for the full 10 weeks. Classes are not generally offered on weekends, and thus, participants are free to go home on the weekends if they so choose.
If you are interested in a particular session, please contact Tim Schade at 865-946-3236 or Jason Jones at 865-946-3235 to confirm availability for the session.  Once you are confirmed to have a spot in an upcoming session you are to complete an NFA application and submit.  Once the selection committee has screened applicants, you will be informed if you have been selected. Once selected, you will receive an acceptance packet via email.
Each participant is expected to be:
An investigator or crime scene technician, employed by a LE department.
Computer literate
Able to participate in group activities
Prepared to work outdoors in the elements and with human cadavers.
Classes are normally held beginning in:
January – March
April – June
September – November
Each listed rate is PER PERSON and includes housing for non-commuters. Commuters who will travel from home to class each day have a different rate listed. 
Commuter Rate: $8,500
Non-Commuter Rate: $12,000
The above rates cover all those employed in the United States of America only. All rates are subject to change without notice. Until you have received confirmation of your enrollment, fees may be subject to change. For International participant rates contact tim.schade@tennessee.edu or jason.jones@tennessee.edu for additional details.
All of these prices include tuition, curriculum, housing (excluding commuters), equipment usage, and uniform shirts.  During the 10 weeks at the NFA, students are housed in fully furnished luxury apartments 10-15 minutes away from our location with full kitchens, washer and dryers, cable TV, internet, and various other amenities.
Transportation to our location and meals are not covered in the cost, and it is highly recommended that participants have a vehicle during the 10-week Academy, due to various off-site training exercises.
Until you have received confirmation of your enrollment, fees may be subject to change.
Certifications
NFA Diploma
Everyone that successfully completes the NFA will receive a diploma stating that he or she has have completed 400 hours of crime scene investigator training.

Shooting Scene Incident Reconstruction
Included in each session of the NFA is a 40-hour basic Shooting Incident Reconstruction (SIR) module. Each successful participant will receive an additional certificate of completion specifically for this module.
Bloodstain Pattern Analysis
Included in each session of the NFA is a 40-hour basic Bloodstain Pattern Analysis (BPA) module. Each successful participant will receive an additional certificate of completion specifically for this module.
Membership in the International Association for Bloodstain Pattern Analysts (IABPA)
BPA instructors will sponsor successful participants for membership in the IAPBA. For more information about the IABPA, please visit their website at http://iabpa.org/.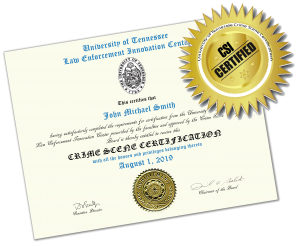 UT LEIC/NFA Crime Scene Certification 
International Association for Identification (IAI) Certification
The National Forensic Academy is recognized by the IAI as providing the necessary training required for the four levels of crime scene certification. These four certifications are:
Certification exams for these certifications will be proctored during the 10-week NFA schedule and all study materials are available in the NFA library.
Individuals wishing to take these certification exams must meet all the experience requirements for the respective certification levels and pay a $300 (IAI members) or ($400 non-members) non-refundable application fee to the IAI.
For more information about IAI crime scene certifications, please visit their website at www.theiai.org/certifications
---
For more information, contact our office at 865-946-3201 or leic@tennessee.edu.

---
Related Links: