UT National Forensic Academy will be hosting our biennial Forensic Symposium with 16 hours of training credit available, December 4-6, 2019 in Knoxville, TN.  Knoxville is home to where the NFA started.  This training is available to all NFA Alumni, law enforcement, forensic technicians, detectives, and medicolegal investigators/examiners. Registration will be open from 10AM – 1PM on Wednesday, December 4, 2019 at the Student Union located on the University of Tennessee campus.  Training will begin promptly at 1PM on Wednesday.  Buses will be available during the symposium for transport to and from the Hilton Knoxville and the Student Union.  Parking is available at the Vol Hall parking garage located on White Avenue (QR codes for parking will be available for purchase at registration at the Conference Rate of $5 per day).  On Wednesday evening, we will be hosting a reception at the Square Room on Market Square in Downtown Knoxville from 6PM – 9PM.
We will also be celebrating 50 sessions of the NFA!
**Limited to the first 250 registrants**
-Early Bird Pricing is $299 from now until 11/15/2019
-Regular Price: $349 from 11/16/2019 – 12/04/2019
---
Wednesday, December 4, 2019
1000-1300 Registration Open
1300-1330 Opening Remarks/Welcome/Color Guard
1330-1415 Guest Keynote Speaker – Michael Bishop, A Murder in Music City
1415-1430 Snack Break
1430-1500 Kentucky State Police and Crime Scene Mapping
1500-1630 Howard Ryan and BAE Systems
1630-1730 Bus Ride to Hilton Knoxville
1800-2100 Casual Reception at the Square Room
Thursday, December 5, 2019
0800-0900 Colleen Fitzpatrick – Genealogy Update with New Restrictions
0900-1000 Dr. Nicole Spaun – Video Collection and Biometrics
1000-1030 Snack Break/Vendor Area
1030-1130 J. Rosansky and J. Cook – PTSD Symptoms & Coping Tactics
1130-1230 Lunch
1230-1430 Patrick Eller – Metadata Forensics
1430-1500 Snack Break/Vendor Demo
1500-1700 Dr. William Bass – Presenting on the Big Bopper Case
1700-1800 Casual Reception with Vendors and Dr. Bass Book Signing
Friday, December 6, 2019
0800-0930 Larry Montgomery – Cold Case Interview Review and Prosecution
0930-1000 Snack Break/Vendor Area
1000-1200 Troy Wilson – Mass Shooting Presentation
1200-1215 Closing
Schedule subject to change
---
Hotel Recommendations: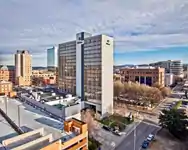 https://www.hilton.com/en/hi/groups/personalized/K/KNXKHHF-NFA-20191204/index.jhtml?WT.mc_id=POG
*Please note that the symposium is not on-site at the Hilton Knoxville and will be off-site at the UT Student Union.  LEIC is providing transportation from the Hilton hotel daily to and from the symposium.  If you stay at a different hotel you will need to meet at the Hilton hotel for transportation.  Book by November 13th to receive the symposium rate of $103.00.
---
EXHIBITORS:
If you are interested in being a vendor please email: tim.schade@tennessee.edu to inquire.