UT National Forensic Academy will be hosting our biennial Forensic Symposium with 16 hours of training credit available, December 4-6, 2019 in Knoxville, TN.  Knoxville is home to where the NFA started.  With the recent additions to our facilities we want to invite you to not only attend great training but have an opportunity to tour these great newer facilities!  Tours will start Wednesday afternoon from 1pm – 5pm and you must sign-up (SIGN UP HERE) to attend the tours. Transportation will be provided.  This training is available to all NFA Alumni, law enforcement, forensic technicians, detectives, and medicolegal investigators/examiners.
We will also be celebrating 50 sessions of the NFA!
**Limited to the first 250 registrants**
-Early Bird Pricing is $299 from now until 9/30/2019
-Regular Price: $349 from 10/01/2019 – 12/04/2019
---
SCHEDULE:  (Additional details will be made available)
Dec. 4 – Wednesday
1200 – 1300     Registration
1300 – 1700     Facility Tours (Must sign-up to attend – SIGNUP HERE)
Dec. 5 – Thursday 
0700 – 0800     Registration
0800 – 1700     Class
Dec. 6 – Friday
0800- 1700     Class
---
Hotel Recommendations: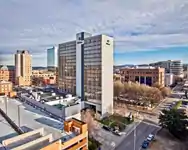 https://www.hilton.com/en/hi/groups/personalized/K/KNXKHHF-NFA-20191204/index.jhtml?WT.mc_id=POG
*Please note that the conference is not on-site at the Hilton and will be off-site. LEIC is providing transportation from the Hilton hotel daily to and from the conference. If you stay at a different hotel you will need to meet at the Hilton hotel for transportation.
---
CALL FOR PRESENTATIONS
The UT National Forensic Academy will be hosting their Training Symposium December 4-6, 2019 in Knoxville, TN.  We continue to remain innovative and forward thinking. If you have a presentation that you feel would benefit our NFA Alumni and other forensic professionals please submit your proposal's via email to: daniel.anselment@tennessee.edu.  We are also adding several 1 hour case presentation slots.  Bring a Cold Case or interesting case that you think our attendees will learn from.  We will be accepting proposals through May 31, 2019.  If you are selected, presenters will receive a waived registration fee to attend the symposium.
What to include in your submission:
TITLE of presentation
Detailed description of your presentation
Total time needed to present (make sure you allow for questions)
Email the above to: daniel.anselment@tennessee.edu
---
EXHIBITORS:
If you are interested in being a vendor please email: daniel.anselment@tennessee.edu to inquire.